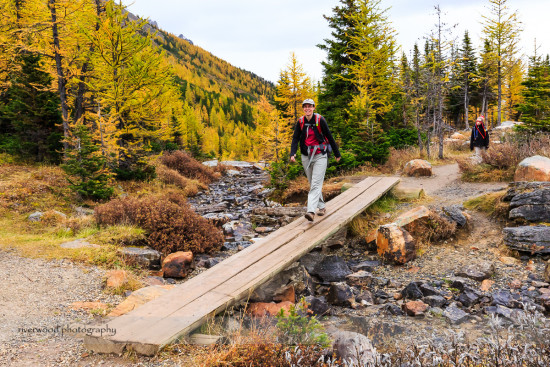 Larch Valley
Back in the fall we went for a hike from Moraine Lake to Larch Valley to see the Larch trees turn yellow before their needles fall off.
Although a conifer, the larch is a deciduous tree and loses its needles in the fall and larch valley is an amazing place to see a valley full of the trees all changing color at the same time.
Moraine Lake is one of the most popular tourist destinations in all of Banff National Park, and the hike from the lake up to Larch valley is also incredibly popular. And very busy. We were at the parking lot very early in the morning (before 8:00 AM, after a 2 hour drive from home) and the parking lot was already almost full by the time we arrived. Even so we were actually on the trail ahead of the bulk of the crowd and had a pleasant hike up the mountain the valley above.
Although we were there at the peak of the fall colors, it was somewhat disappointing that it was very cloudy while we were hiking, and even raining lightly up at the top. It's still beautiful to see the larch trees even in the clouds and mist, but would be even more spectacular with the sun shining down on the golden yellow needles of the trees.
The crowds were crazy on the way back down the narrow trail and we were very happy to have been there early in the morning rather than later in the day when everyone else arrived.
Gallery of Images