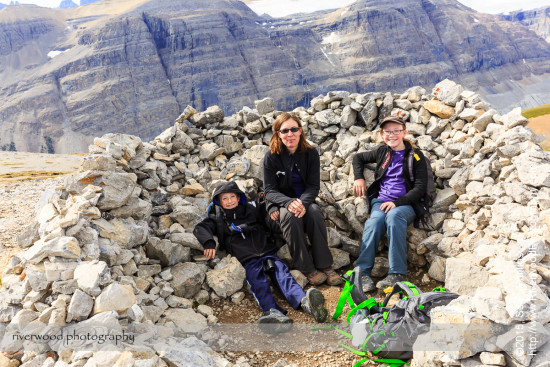 This is the 2nd in a series of posts featuring photos from a recent camping trip we took to the Icefields Parkway in Banff National Park. We stayed at Waterfowl Lakes Campground (about halfway between Lake Louise and the border between Banff and Jasper National Parks. We stayed for 5 nights and spent the days hiking and exploring in the nearby region…. The first few days (Tuesday through Thursday) it was just our immediate family but we were joined by my sister Heidi and her family from Friday afternoon through Sunday.
Day 1 – Glaciers, Rainbows, and Bears
Day 2 – Parker Ridge Hike, Swimming in the Mistaya
Day 3 – Nigel Pass Hike
Day 4 – Rained Out, No Pictures
Day 5 – Wilcox Pass Hike
Day 6 – Sunrise at Upper Waterfowl Lake
Day 2 – Parker Ridge Hike, Swimming in the Mistaya
On the second day of the trip we headed out to hike Parker Ridge, which is also near the Columbia Icefields (yes, this is a trend!). This hike took us high up into the alpine well above the treeline. It was really quite windy, but the views of the surrounding peaks, glaciers, waterfalls, and so much more made it well worth the trip.
Initially we only really planned to go up to "the saddle", which is where the vast majority of visitors stop. But we decided to carry on into a secluded valley past the saddle to enjoy our lunch out of the wind. The meadow was covered in very soft grasses (referred to as heather in one of the hiking books) and it made for a great place to relax. The views were absolutely gorgeous so we also did an obligatory family photo.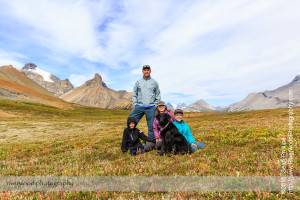 While eating we started to talk about carrying on even further and we eventually decided that we might as well continue right up to the summit the ridge. The kids were really excited about notching another summit this season and so we went for it. It was a bit of a grind and the final pitch was very steep and covered in loose scree, which made it easily the hardest summit that the kids have ever attempted. They were solid hikers and made it to the top with smiles on their faces!
After the hike we spent the rest of the afternoon at camp. It was a very sunny and warm day and my feet were sore so I decided to go for a walk in the Mistaya river. Somehow that turned into Andrew, Melanie, and I (and Pepper of course) going swimming, splashing, and soaking in the glacial waters. As you can imagine it was very cold! But it also felt great on the tired muscles!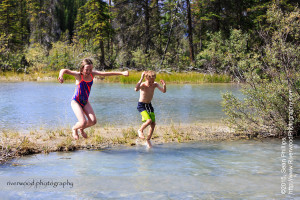 Here are a few more pictures from Day 2…