This is the 1st of 3 articles about our recent trip to Lake O'Hara in Yoho National Park.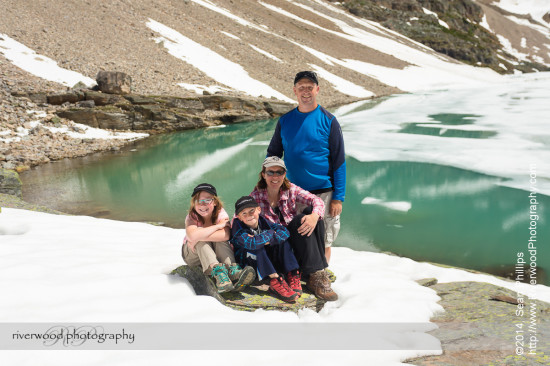 About Lake O'Hara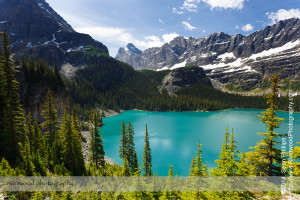 Although we have lived in Calgary for almost 8 years, we had not yet been able to take in a trip to Lake O'Hara, which is widely regarded as one of the crown jewels of the Canadian Rockies. In fact it's such a special place that they have restricted access to the site to only a small number of groups each day and you have to book your spot 90 days in advance. Since making our booking we have talked to many people that have been trying for yours to get a spot and have never been able to do so. We were lucky to get through and to book the exact dates that we wanted.
While you can choose to go in for day trips only, we chose to book 2 nights in the Campground so that we could do 3 complete days of hiking while there. 3 days is barely enough and while we were able to do the 3 most popular hikes in the area there is still so much more to see and it would have taken several days more to see everything.
Camping at Lake O'Hara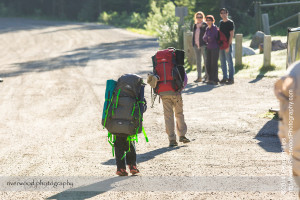 We arrived at the parking lot and made our way to the bus. The rules about what you can bring are pretty strict; maximum of 1 large bag per person or 2 small ones. This was the first "backcountry" camping trip that we had ever done with the kids (we have become solid car campers over the last few years) and it was a bit of a struggle to downsize our gear to fit into one bag each. Although we did manage it, Andrew's bag was way too big for him and he didn't even make it across the parking lot before Louise had to take it from him. Also, as we later learned, most of the other campers stretched the rules and brought their main bag as well as a day pack and a soft sided cooler for their food (and wine!). Several frequent users of the area actually had rolling bags or small folding carts. Packing like that would have simplified life a lot and we will definitely do it a little differently if/when we camp there again.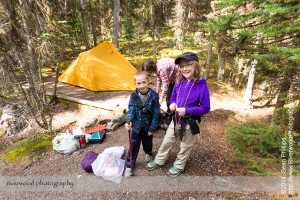 Immediately after arrival we picked our tent sites and got to work setting them up. For this trip we decided to use 2 backpacking sized (2 person) tents and therefore needed 2 tent pads. In the future we will definitely use 1 four person tent instead. It would be a little cozy for all 4 of us, but there will be so much less work (and weight) that it will be worth it.
The campground is very nice and has running water, a communal fire pit and cooking area, and plenty of bear-safe storage for food and cooking tools. Although technically back-country camping, this is definitely more like a walk-in car camping site than any backpacking trip that we've done in the past. It was very civilized!
Hiking to Lake Oesa
After setting up camp we immediately hit the trail to do our first hike of the trip. The weather was perfect for hiking and we were excited to finally be setting out after planning for this for so long. We made use of Melanie and Andrew's packs as daypacks to hold our lunch, water, jackets, and of course my camera gear. By my standards I travelled very light, but that still included a large SLR camera, 1 long lens, 1 wide lens, a tripod, and a selection of extra batteries, memory cards, tools, etc.. Of course this was in addition to food, water, sunscreen, bear spray, and all the other essentials for a trip into the wilderness.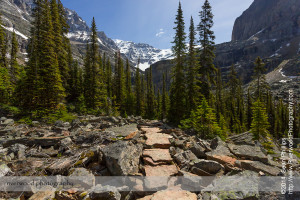 The hiking trails in the Lake O'Hara region are nothing short of amazing. They have all been carefully built using gravel, timbers, and large slabs of rock that have been interlocked to create beautiful pathways. While definitely not wheelchair friendly (many areas were incredibly steep or had steps carved into the rock face) the trails were about as nice as any I have ever seen anywhere. They have put in the work to try to protect the area from damage and overuse, and to keep it beautiful for ages to come. I can't even imagine how much rock the trail crews have moved over the years to create this incredible trail system…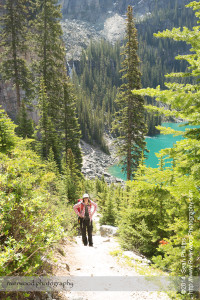 The trip up to Lake Oesa starts along the shore of Lake O'Hara itself, which is an emerald green jewel sitting in a glacier carved valley and surrounded by beautiful cliff faces and alpine peaks. In many ways it's a lot like Moraine Lake or Emerald Lake, but simply due to the small crowds it feels like you have your own private getaway. About half way around the Lake the Lake Oesa Trail splits off and almost immediately heads upwards. Overall the trail climbs over 250m up to get to Lake Oesa, but a huge chunk of that elevation gain happens in the first steep pitch up the trail.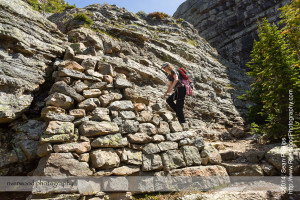 We were huffing and puffing by the time we reached the first "tarn" (a small glacial lake) at the top of the cliff. After that the trail meanders and climbs much more gradually and is considerably easier. There were a few more steep pitches that had to be climbed, but they were all much shorter and allowed for quicker recovery.
Lunch at Lake Oesa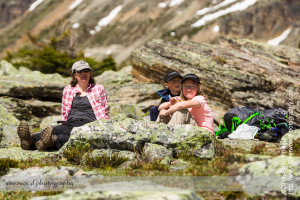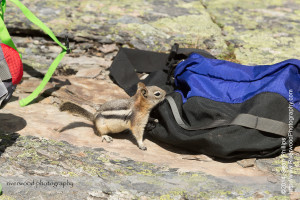 Arrival at Lake Oesa signaled that it was time to break for lunch. There's nothing like hiking in the mountains on a clear and sunny day to build an appetite! We relaxed on the rocks and enjoyed the views of the icy lake and the surrounding peaks. We were visited by several ground squirrels including one cheeky critter that wanted to get right into our packs and help himself to the rest of our lunch.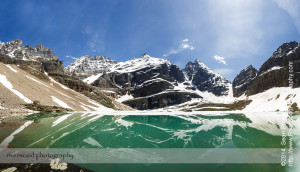 We had a nice long break and took time to enjoy the views and of course to make a family picture. The entire area is extremely photogenic at any time, but due to the perfectly blue skies and the sun shining down when we were there the colors of the lake were incredible and we couldn't have picked a better day to be up there.
Returning to Camp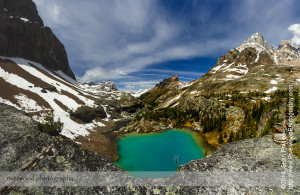 After a nice long break we started back down the mountain. Although hiking down is easier in many ways than going up, it's still not "easy" and can be very hard on the legs. We were all getting tired and we realized that we were running out of water before we were half way back to Lake O'Hara. And unfortunately we had left the water filter back at camp. I thought hard about taking water from one of the many mountain streams that we passed along the way, but Louise convinced me not to. I'm sure that the water was coming straight out of the glacier above us and would have been fine, but drinking water without filtering it is rarely the right choice!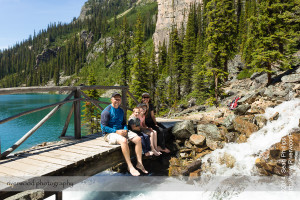 When we got back to the shoreline trail at Lake O'Hara we decided to continue the trip around the lake rather than heading straight back to camp. Although this added an extra kilometer to the total distance for the day we really wanted a close up look at Seven Veils Falls and to see the rest of the Lakeshore trail too. There was a fair bit of grumbling from the tired kids at this point but I'm really glad we did. The light was simply amazing at that time of day and the views from the south side of the lake back across toward Mount Huber were some of the most spectacular that we saw during the entire trip. That was the only truly sunny day we had and I got some of the best images I made all weekend.
All in all it was an incredible day and if that had been the only hike we did on the entire trip I would have been happy. We all enjoyed it, the kids were great hikers, and we had fun. And we saw plenty of amazing views, wildflowers, and beautiful critters on the hike. I can't recommend this trip highly enough!
***
See below for a few more pictures from the day, and check back soon for more from the rest of the trip.